[heading]These Indicators Suggest Buying Silver[/heading]
Since the onset of 2013, silver is down 35.5% through the weekend. It is the worst commodity of 2013. So, then, why buy silver?
Just last month, the worst selloff in 30 years transpired.
Lately, gold has been stealing all of the headlines after it fell $213 in two days. That is good for a 14% loss. And while gold got plenty of attention for having taken an epic spill, silver dropped even more: 18% in two days. In one day it fell 13% alone. Silver and silver-stock investors also saw huge losses.
Institutional investors do not want anything to do with silver, which, believe it or not, is a bullish sign, albeit in a sea of bearish signals.
It is easy to find investors' interest or disinterest in the devil's metal when we're interested in buying silver. The Commitment of Traders (COT) report is one great resource. What the CoT shows is the bets of traders in the now. When traders are bullish or bearish, they work as a "contrarian" indicator, especially when they are extremely betting in one direction or another.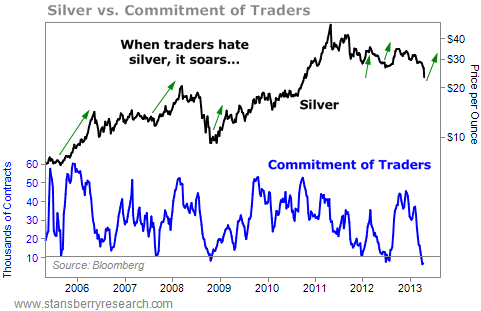 The black lines represent silver prices, while the blue line shows net bets (long bets minus short bets) of silver futures traders. When the blue line is low, traders are betting against silver. The contrarian then buys.
Here is the history:

The average return on silver when you buy it at such an extreme is 23%. Last summer, in 2012, investors who purchased made 25% in six weeks.
Once the CoT numbers move higher, trader bearishness has bottomed, and silver will be a great buy.
When buying silver, to be sure, it is important the lessons of the last two years are heeded. Silver and any investment is not meant to be bought all at once, in an "all-in" type scenario. There is too much volatility in the market, and as so many silverbugs have learned, there is sometimes opportunity cost, which can cut deep. So buy steadily and strong, and always keep enough cash while buying silver to cover disasters.